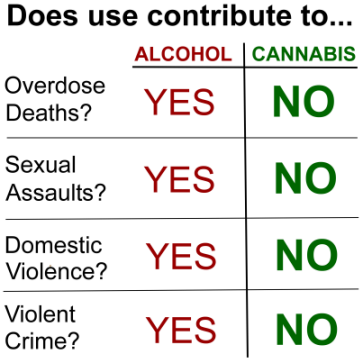 This is a great opportunity to have your voice heard at Calgary city council about all things related to cannabis.
See letters sent to Mayor Naheed Nenshi and city councillors here
. I encourage you and please encourage your like minded family and friends to take action and write your city councillors. Also keep in mind a Calgary civic election is in October 16, 2017, when politicians are much more likely to respond favourably to citizens wants and needs. Shameless shout out -
@ward10yyc
vote
Michelle Robinson
---
Calgary City Council in camera February 6, 2017
Legalization of Marijuana Education Session
The Mayor, council and guests gathered starts at the Calgary City in camera session
video time mark 17:20
.
Calgary City Mayor Naheed Nenshi
starts to speak about the upcoming interesting cannabis session video start time mark 19:15 - 21:25.
The legalization education session starts at video time mark 31:30. At 32:10 Calgary community standards acting director Richard Hines covers several topics from nuisance odour complaints to bylaws and possible time line to legalization of cannabis maybe the end of 2018. In regards to nuisance odours Nenshi comments on this issue as well. Mr. Hines is a 25 year veteran
Calgary Police officer (CPS)
.
Calgary City Mayor Naheed Nenshi
and some more of his interesting comments and a small bit of history of cannabis with Nenshi. This is not a quote but it might give you a idea on his current way of thinking. During the morning session Mayor Nenshi asks if the plant limit is set at 4 what level of enforcement do they start at? And growing 4 plants in a home would be like growing 4 African violets. Starts at video time mark 50:25.
This is another positive change from when Nenshi was first elected when his reply to questions about cannabis was it is a federal issue and there is nothing the city can do. Later on during his second term as city mayor Nenshi became part of the city council that is advocating the federal government to provide all federal legal medical growers private information. The fact is federal privacy laws clearly don't allow a municipal government access to current Canadian citizen medical information equals a waste of expensive city resources. Mayor Nenshi made a comment of possibly following the current alcohol regulations as a model to use. At the end of the education session Nenshi made a comment he would like to discuss the gateway theory more.
The next councillor to ask questions was from Calgary city ward 4 councillor Sean Chu when he proclaimed the majority of marijuana advocates that he has been meeting said they prefer mail order over store front services. See video start time mark of 50:30. Chu had made this comment twice, once in the morning session asking a question to Mr. Hines about safety of the children and again he brought up his previous mail order safer then store fronts in the afternoon session. His next question was is cannabis a gateway drug? I suggest writing a polite and respectful message to Calgary city ward 4 councillor Sean Chu.
Session adorned for lunch at
video time mark 101:14
Session starts again at
video time mark 2:14:00
Mayor Nenshi introduces Dan Rowland Denver, Colorado Office of Marijuana Policy representative which had a informative presentation but due to time restrictions he had to skip pass parts of it. Real city (Denver, Colorado) experiences that can't be just brushed aside with typical reefer madness stigma nonsense. One important theme was the city should not think there will be chaos in the streets and rampant crime waves. Overly restrictive regulations will only strengthen the black market to thrive. The costs in relation to city jobs created were paid for by a 3.5% city tax. Additional not to expect enough tax revenue to fix deficits. Mr. Rowland provided 2014 to 2016 revenues for a city the size of Denver with a annual budget of 300 billion with cannabis city collected taxes at less then 1% at 33 million in 2016 up from 2014 and 2015.
Nenshi instructs the guest panel to introduce themselves at video time mark 3:28:04 Some of the guest panel was advocating for harm reduction and a health care approach instead of the failed law enforcement prohibition actions. The panel was made up of representatives from the
University of Calgary
,
Alberta Health Care
,
CPS
, Denver's Dan Rowland and a local cannabis industry business owner. The most notable issue with the panel I had was the business owner comments about the Denver's maximum 12 plant limit for personal home gardens. 6 plants per adults living in the home with a maximum total of 12 plants.
The business owner stated that 12 plants was to many and a 4 plant limit would be enough. There was other comments of his that I disagree with but the plant count is the most important. See February 24, 2016
Federal Court Decision Allard v. Canada
for the evidence and why I disagree Also see the "
Liberal government to respect Allard federal court ruling!
" published March 24, 2016. Additionally it does not leave any room for mother plants, clones, seedlings and male plants. Even Mayor Nenshi said growing 4 plants in a home would be like growing 4 African violets. Starts at video time mark 50:25. CPS biggest concerns was said to be
impaired driving
and cannabis gardens.
Lastly a possible attempt at a joke was made by a city councillor can be seen at video time mark 3:58:30 when Sean Chu asks if Denver's Dan Rowland brought some free samples to share?
The last city councillor to speak (again) possibly to make sure she is on record of her long time efforts to keep the undeserved reefer madness stigma alive and well. Also trained in the health care profession long time acclaimed all to many times as ward 13 councillor Diane Colley-Urquhart founder of "STOP Marijuana Grow-ops Calgary Coalition" some years ago now. She is also part of the Calgary Police Commission for several years now.
All the city councillors with questions and comments were, Ward 1 Ward Sutherland, Ward 2 Joe Magliocca, Ward 3 Jim Stevenson, Ward 4 Sean Chu, Ward 7 Druh Farrell, Ward 8 Evan Woolley, Ward 10 Andre Chabot, Ward 12 Shane Keating and Ward 13 Diane Colley-Urquhart.
Contact information for all of Calgary city council is here
The city provides a copy of
audio/video to the public and can be found here
.
Letters sent to help educate The Calgary City Mayor and councillors with evidence only are here
---